The purpose of this website is to showcase the cats and kittens we are currently fostering in our home. If you are interesting in a feline that you see on this page please read and follow the adoption procedures through:
Fly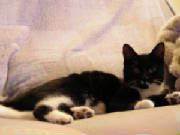 Flash and Fly (aka Jack and Jill on Abbey Cats)
Flash and Fly are a 6 month old spayed and neutered sibling pair. They were rescued from euthanasia at a shelter. These two are very bonded and are looking for a home together. They love to cuddle with eachother and people! They are litter trained and it is easy to groom them and cut their nails. They are the perfect pair!